EVALUACIÓN DE LAS CARACTERÍSTICAS DE LAS POBLACIONES Y EL USO DE LOS HÁBITATS DE PODOCNEMIS VOGLI (MÜLLER 1935) DURANTE UNA TEMPORADA REPRODUCTIVA EN LA RESERVA NATURAL PRIVADA DE BOJONAWI (DEPARTAMENTO DE VICHADA, COLOMBIA)
Ana María Sepúlveda-Seguro

Vivian Patricia Páez

Grupo Herpetológico de Antioquia, Instituto de Biología, Universidad de Antioquia. Medellín

Marley Tatiana Gómez-Rincón

Mónica A. Morales-Betancourt

Carlos A. Lasso
Resumen
We conducted a short study in the Bojonawi Private Nature Reserve (Vichada department, Colombia) in three types of aquatic macrohabitats to characterize habitat use, population structure and reproductive phenology of Podocnemis vogli during one reproductive season. We also reevaluated the degree of sexual dimorphism in this species. To maximize capture rates, we used three methods: funnel traps, trammel nets, and manual capture. Only the funnel traps could be used in a standardized manner in all three macrohabitats. We captured 149 individuals in all age/size classes and obtained 11 recaptures. Since we were able to standardize sampling effort with the funnel traps in all macrohabitats, we compared habitat use and class structure among habitats during this reproductive season. There were no significant differences among the three macrohabitats in terms of relative abundances or size class distributions, but sex ratios differed, with an excess of males in the river and females in the lagoon. As with other congeners, P. vogli is a sexually dimorphic species where females attain larger sizes. In this study we documented that pre-cloacal tail length and nail length on the anterior third toe are the most useful secondary sexual characteristics for sexing subadult and adult individuals. Some females larger than 22 cm straight-line carapace length had calcified eggs in their oviducts. This species is abundant within the reserve and appears to be a habitat generalist, including the use of large rivers. More extensive and intensive monitoring is needed to document specific class survivorship rates, detectabilities and population dynamics.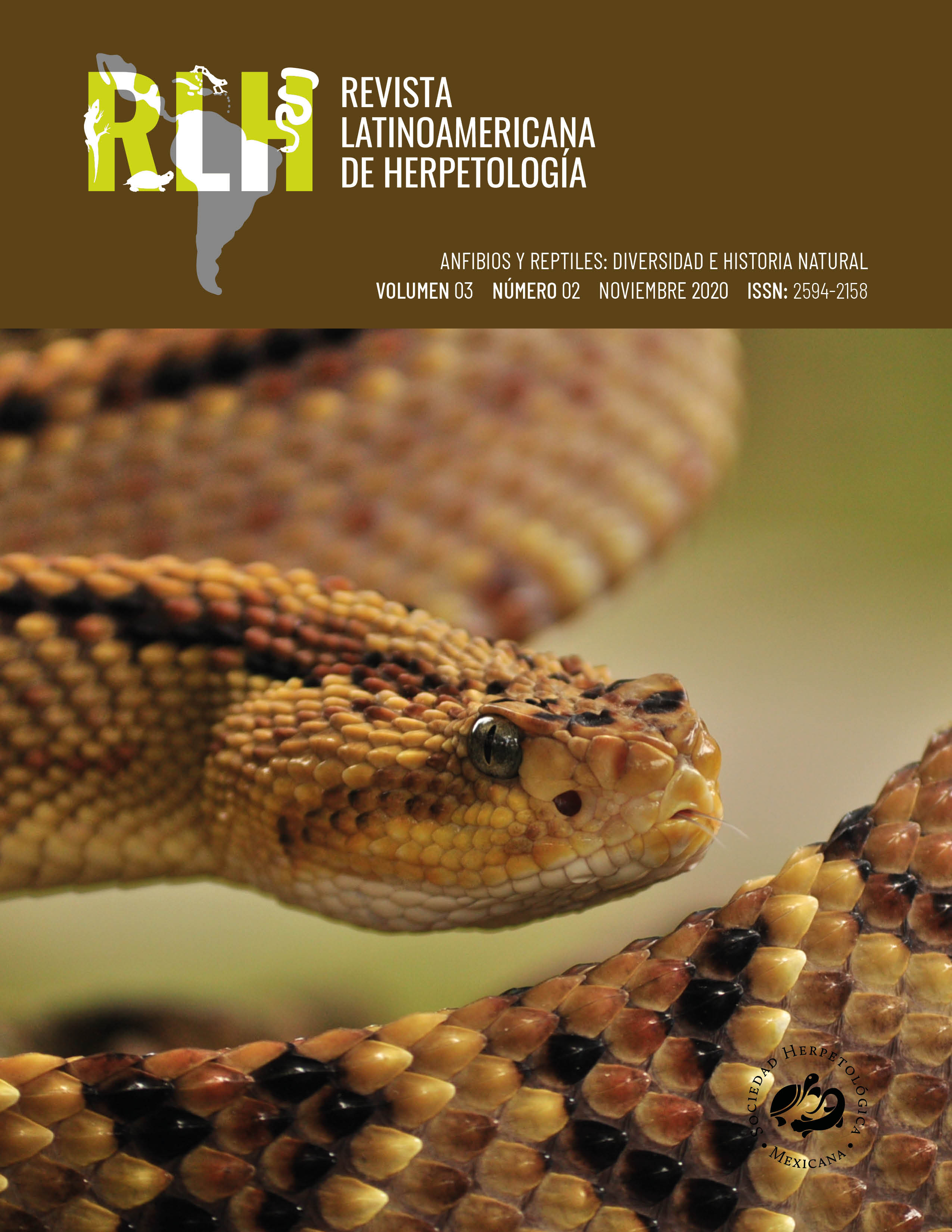 ##submission.howToCite##
SEPÚLVEDA-SEGURO, Ana María et al. EVALUACIÓN DE LAS CARACTERÍSTICAS DE LAS POBLACIONES Y EL USO DE LOS HÁBITATS DE PODOCNEMIS VOGLI (MÜLLER 1935) DURANTE UNA TEMPORADA REPRODUCTIVA EN LA RESERVA NATURAL PRIVADA DE BOJONAWI (DEPARTAMENTO DE VICHADA, COLOMBIA).
Revista Latinoamericana de Herpetología
, [S.l.], v. 3, n. 2, p. 83-94, nov. 2020. ISSN 2594-2158. Disponible en: <
http://herpetologia.fciencias.unam.mx/index.php/revista/article/view/139
>. Fecha de acceso: 02 mar. 2021